Self Expression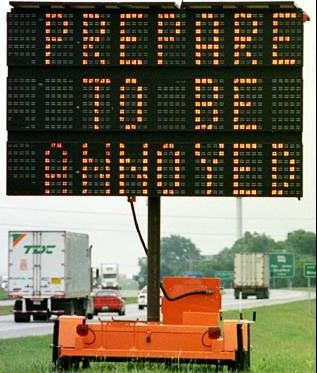 "BOSTON
-- A Chelmsford, Mass., man has complied quite a collection of road signs, traffic signals and even a railroad gate in his front yard
Dan Pascucci said that his neighbors don't like his music or art collection.
"It's my form of decoration. People like pink flamingoes and wooden animals, and that's my kind of show, you know. I like the signs and the signals. That's my thing," he said.
One of his neighbors says it's a driving distraction, and wants a judge to red light the display.
"About two years ago, my neighbor moved into the neighborhood. He's got this unique hobby of putting up signs on his property, which are fine. One, two signs are OK, but as more and more signs accumulated, we got very nervous," he said.
But then, came the piece de resistance -- a full-scale, fully operational, railroad crossing.
"That was the straw that broke the camel's back," Steven Giles said.
Giles went to court, insisting the signs violate town bylaws. The town isn't sure what it can or will do. Meanwhile, Pascucci's lawyer advised him to take down the signs before things got too confusing. All that remains is a vintage, filling station driveway bell.
"Yeah, it kind of stinks," Pascucci said. "It's my way of expressing myself, you know."