The ACME Junior Lollypop Kit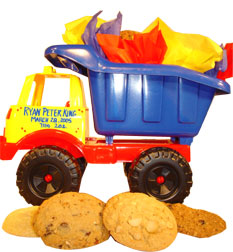 A toy truck, loaded with cake and cookie crumb "dirt," is the perfect treat to unload at a preschooler's construction party..
2 baked 8- or 9-inch round cakes.
2 3-oz. pkgs. prepared chocolate pudding.
3 to 4 cups chocolate cookie crumbs.
Clean plastic toy dump truck and shovel
Step 1: Cut the cakes into 3-inch-long slices, then cut them in half.
Step 2: Layer the cake, pudding and crumbs in the clean dump truck and serve with the shovel