Pimping My Ride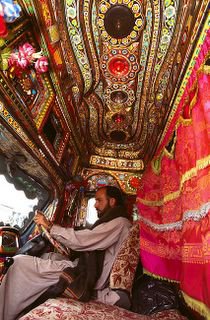 I took my truck for it's first service today.
It is now officially weaned, and will eat solids from now on.
I've also been thinking about "pimping my ride".
The trucks at our New Plymouth depot are devoid of anything other than company logos.
They look a bit sanitary.
Our Northern Depot has a fleet with decals of little squiggles and pinstriping on them.
Some of them are a tad overdone, but I like them.
Mind you I did once drive around in a bus that had "We Have Come For Your Daughters" across the front, and "God is a 50ft jelly bean" across the back, so my taste could be a bit questionable...
Photo